Zen philosophy and emptiness. This article is about a Japanese ink painting from the 18th or 19th century.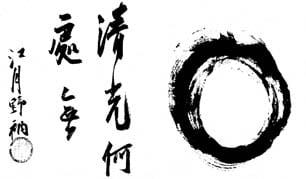 The Circle as a Sign of Emptiness and Enlightenment in Zen Philosophy
A good sign of emptiness is a circle. It frames an empty space. And it has neither beginning nor end. Infinity.
There is also a neighbourhood to zero. It has no value in itself, but in combination with other characters it can represent a considerable value.
Japanese spiritual masters, especially of Zen Buddhism, have demonstrated their realization with a painted circle. It is done with a single brush swing. Not the slightest correction is possible.
And such a circle is accompanied by an impromptu poem. Again, there are no corrections possible. Each of the calligraphic characters must have succeeded immediately.
This is an art form of its own, called Enso in Japan. This enso, which is shown above, is painted with a dry brush and thus gets an expressive shape, which is nevertheless completely balanced. Although a circle, it is just not soulless, like a circle drawn with a circle. It is not mathematically accurate and yet perfect.
The characters do not consist of phonetic characters, but of symbols. As a result, they are full of associations and are difficult to translate sufficiently.
On this ink picture there are five characters besides the signature: clear, light, what, where and empty.
清 光 – clear light / beam of light
何 処 – what where / somewhere
無 – no / empty / nothing
This could freely be translated with:
Wherever we look, there is nothing but clear light.
This is a wonderfully poetic interpretation of the buddhist knowledge: everything is empty.